jQuery(document).ready(function(){ jQuery( ".header_share_wrap.dropdown-list" ).prepend( "

" ); });
Get fitted for a custom prosthetic device in Shreveport, LA
---
Your options aren't limited to mechanical prosthetic aids. At Certified Limb & Brace, you can get a prosthetic device customized to your needs. Our certified technicians fabricate and modify prosthetic devices in-house at our world-class facility in Shreveport, LA.

Using state-of-the-art equipment, we can customize mechanical or computerized foot and knee systems with...

Multi-axial rotation
Hydraulic components
Energy-storing features
A variety of socket designs

We can also create myoelectric prosthetic aids, such as i-limb hands. Contact us today to learn more about our prosthetic services.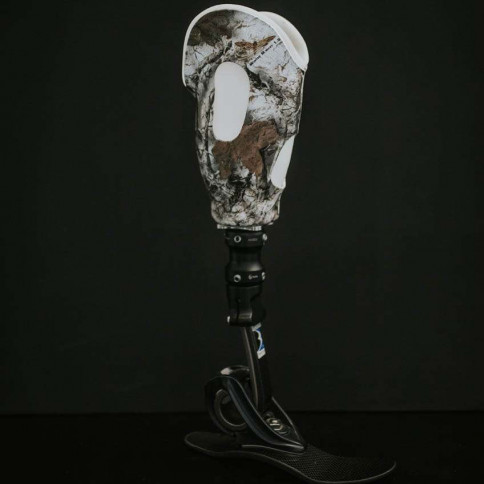 Prosthetic aids for every need
---
We provide prosthetic services for patients in the Shreveport, LA area who've undergone...

Partial hand, below-elbow and above-elbow disarticulations
Partial foot, ankle, below-knee and above-knee amputations
Knee and hip disarticulations
Hemipelvectomies

We can fit patients for prosthetic devices right after surgery. You'll appreciate our commitment to quality and transparency.

Call 318-636-9145 now for a consultation.
FAQ about our prosthetic services in Shreveport, LA
The world of prosthetics is confusing, especially if you're not used to medical jargon. To better assist our clients, Certified Limb & Brace has compiled a list of frequently asked questions regarding our prosthetic services:

What's the history behind prosthetic services?

After World War II, there was a desperate need for artificial limbs. Doctors and scientists continued to develop the field into what we see today.

What's the role and qualifications of a certified prosthetist?

A certified prosthetist must hold a college degree. After completing their residency, they have to acquire and maintain specific certifications throughout their career. Prosthetists help their patients by developing long-term treatment plans in conjunction with traditional medical assistance.

What to expect when working with a prosthetist?

Your primary physician will set your diagnosis and prescribe the best treatment option for your situation. After we receive that information, we'll tailor your artificial limb to fit your needs. You'll receive ongoing support from your prosthetist throughout the course of your life.

Do I need additional treatment?

Occupational or physical therapy may add value to your treatment plan. Speak with a health care professional about your options.

What are the benefits of prosthetics?

Each patient has their own experience. However, artificial limbs are known to improve:

Mobility
Quality of life
Balance
Circulation

If you have additional questions regarding our prosthetic services in Shreveport, LA, get in touch with us today.